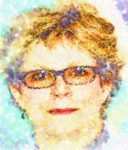 My Leslie's Blog area is under continual development and selected pieces will be coming in the future. This area has been designated to hold a running archive of related personal comments and opinions. Having been either a parent, a public school teacher, or a professor of education off and on since 1966, I have developed not only a lot of expertise in many areas of education, but also lots of personal opinions about related educational topics. Thanks for looking at my personal pieces. I hope you stop by to check out the instructional array of pages, as well as those where I offer personal opinions.
Opening Comments:
For many people schools are thought of in very traditional terms — quiet students, desks in straight rows, textbooks, teacher in the front of the room talking, students seated quietly listening. Good luck finding that school in this day and age!
More likely visitors in today's schools will see students engaged with some sort of technology — hunched over a tablet or viewing a computer. The classroom may be rather noisy compared to past standards. There may be some periodic disruptions as the class will more than likely be overly crowded, and may include students with issues of emotional control, or attention or learning differences that need special help.
Teachers today are not just instructors. Today's teachers are surrogate parents, stable role models, peacekeepers, caregivers, and unfortunately sometimes and quite literally, martyrs. If you think about it they are also true keepers of the future.
A challenge: Go and observe at a school in your neighborhood. Or be a volunteer chaperone on a school field trip. Talk to crossing guards, bus drivers, cafeteria workers, and others who work in schools. You will find that teachers are some of the most valiant, dedicated, and important people in our children's universes — they are much more powerful and important than they know. As a professional group they are grossly underappreciated, horribly underpaid, often maligned, and easily manipulated by both ignorant politicians and oblivious media. I dare any critic to keep pace with today's teachers and remain as committed, as kind, as caring, as dedicated, and as sane!
Here are some other things I feel strongly about or think deserve broader discussions among today's parents and teachers and the general public.