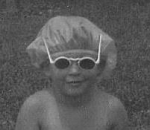 Originally from Baltimore, Maryland, I have lived in many areas of the US and in Germany. My doctorate, from Oklahoma State University, is in curriculum and instruction, with additional emphasis in educational foundations, and gifted education. I came to the University of Wisconsin-Stevens Point in 1990, and after 22 years of distinguished service stopped teaching for UW-SP in December of 2012 retiring as a full professor with emeritus status.
During my career at UW-SP I taught many graduate courses in a number of areas – brain-based education, philosophical foundations of education, creativity; newer views of learning; curriculum; reflective teaching; and the models of teaching and learning; and an undergraduate course in educational psychology, plus a workshop on conflict transformation. Beyond my university experiences, I had multiple incarnations as a classroom teacher, reading teacher, and teacher and developer of programs for gifted, highly able, and creative learners in Maryland, Georgia, and Oklahoma. As an addition to my academic duties, I maintained active partnerships with area classroom teachers and public schools in Central Wisconsin. I wrote a small book for teachers which used concepts from holistic education and multiple intelligence theory, Every Child, Whole Child (out of print).
I have always been very interested in holistic learning, and rites of passage education, and concepts like emotional and multiple intelligences and brain-based education (educational neuroscience). Essentially my career, indeed the entirety of my professional life has been devoted to helping educators see the best in each student. I firmly believe that making an attempt to understand individual realities and educating to students' strengths benefits both students and peers and eventually society. For me learning should be joyous and interesting — students should be able to leave all educational venues with senses of pride in accomplishments, and possess self-knowledge about how they learn best. I also wanted my students to know that someone cared enough about them and their futures to prepare them for the many challenges life offers even when that meant tough and demanding.
I love the challenges inherent in writing grants and initiating unusual professional partnerships. From 2000-2003 I was actively involved in a UW-System's technology grant initiative (the CELT Project) with the Stevens Point School District and in collaboration with my dear friend and colleague Professor Susan Gingrasso, from the College of Fine Arts. We trained teachers in melding brain-based learning and Multiple Intelligence Theory with technology. In 2003 I received a three-year Congressional Award to fund The FACETS Project which was geared toward university faculty development and focused on realigning university teaching to the needs of Millennial students. Another primary focus of the FACETS Project was to introduce faculty to newer methods of teaching and current research on learning and cognition. Selected participants offer insights into this experience in a collection of their stories about reformed teaching in the related book A view from the bridge. I was awarded one of the UW-Systems Teaching Scholar Awards in 2004 and concentrated my efforts on investigating and creating quality online graduate instruction that featured the development of online communities and was based on distinctive models of teaching and learning. In 2007 I procured additional grant funds for an ambitious six campus joint program through UW-Systems which combined different types of learning technologies with backward course design, and meeting the needs of Millennial students. This enterprise was entitled ICoP — Intercampus Communities of Practice. Related to these experiences I have done extensive professional development presentations both in the US and Canada and I would hope to continue some of that work in retirement.
I have written on many topics that are reflective of my graduate teaching and personally maintained a large comprehensive website for 17 years which was related to those interests. My university website was and is still used by other teaching professionals around the world. Beyond the Views from the bridge reflections, my most recent publication concerned the importance of rites of passage educational experiences in Holistic learning and spirituality in education: Breaking new ground, edited by John P. Miller, et al for SUNY Press. I also like to review books and manuscripts related to my many interests. Throughout the entirety of my career I have been committed to modeling excellence in teaching, and to helping others see the potential in students in order to reach them in new ways. In 1994 UW-SP recognized my outstanding contributions in the area of instruction with a University Teaching Excellence Award.
While a professor I taught a myriad of courses:
Education 381: Educational Psychology
Education 370/570: Conflict Transformation
Education 701: Philosophical Foundations of Education – A cyber course
Education 703: Newer views of learning  (formerly Theories of Learning)
Education 721: Fundamentals of Curriculum
Education 722: Elementary Curriculum
Education 726: Models of Teaching and Learning – A cyber course
Education 783: The Reflective Teacher
Education 784: The Creative Teacher
Education 790: Brain-based Education — A cyber course
Leslie's vita
---
Citations for online references and copyright restrictions:
Often folks write and want to know how to cite my pages. Frequently these inquirers indicate they are in either masters or doctoral programs. As part of student orientation each graduate adviser, or department, or graduate institution for higher learning should provide their students with clear guidance on what style manual to use when writing papers, research, theses, or dissertations. In the States these are usually either APA, Chicago, MLA, or Turaban — it depends on the field of study. Generally, schools of education or related fields use APA. If readers did not receive that information from their school, please seek guidance from your immediate supervisor or professor on this point as each citation method is different. Links to helpful online formats can be found at:
If you are an interested browser, educator or librarian and not sure about what the legal usage of others' materials, here are some excellent resources.
---
My usage policies:
Please note that web piracy and plagiarism are forms of theft and are legally actionable. Please observe common courtesy and ethical behaviors and notify web authors of usage, or request permission to use materials. Parts or whole pages of content cannot be cut and pasted into other's websites or on handouts without prior permissions, as this is a clear copyright violation.
I believe that simply linking to pages can be established without asking authors' permissions, but it is always nice to know when someone has linked. Also, short quotes can be used noting common direct citation formats and full attribution using APA, MLA, or Chicago style manuals without notification.
Here are my specific restrictions on usage. 
Original materials appear as those copyrighted to Leslie Owen Wilson. For readers who are looking for citation information, MLA, Chicago, and APA style manuals all have preferred formats for electronic references. It is customary to offer known authors, URL's, and dates of retrieval for e-quotes. On some of my pages I include dates of original posting publication and major revision dates. Many of my pages are from course packets I created for my students, while others are from unpublished manuscripts, my presentation handouts, or were created purely as webpages. See individual page notations. or if you have questions, please write me.
If you would like to use my material for a course, or in citing for a course or non-profit academic publication, I am usually happy that other professionals and students have found my materials helpful and will grant you access under the following conditions:
*This is my most important requirement! Because I believe that we can actively work toward creating a better, kinder world, users are duty bound to commit at least one random act of beauty or kindness for each concept used — no kidding!!!
Beyond short selected quotes, which can be easily attributed following style manual guidelines, any instructional materials used in the course of regular teaching,  in not-for-direct-profit venues like professional presentations, cited in publications, or used for professional materials must be cited as to the source of original authorship. Please notify me if you are using larger portions of my work. You can reach me at either my related website address or university address
If material is used for experimentation, action research, curriculum development, or for general instructional revision, please inform me prior to the event. In the cases of research, as a professional educator I would be curious as to the results and findings.
---
**For profit usage:
If materials are being used on a "for profit" basis and these events or works generate monies or income for publishers, institutions, or individuals beyond the costs of general duplicating, then I withhold permissions until appropriate usage fees or honorariums have been discussed and agreed on. Examples of these events or works include but are not limited to the following:
extended professional consultancies,
on-line courses,
inclusions in commercially prepared course packets,
on-line or ancillary materials for texts,
for professional development courses that are for pay,
or "for profit" sponsored workshops.
In cases such as these, please contact me for written permissions and a fee schedule as it depends on what you are requesting.
A personal note to acquisition agents – Please know I am deeply offended by the assumption that I will hand over permissions for commercial usage of my work without some monetary consideration. While my usage polices are quite generous to teaching peers, text publishers and commercial curriculum developers make lots of money. Individuals creating, developing, and sponsoring sites without commercial support, incur lots of expenses. Trolling the internet thinking that some unsuspecting academic author will blithely hand over his or her work "in perpetuity" for the fame and glory of a citation or footnote is both offensive and very unrealistic. If you are working  with an author who wishes to use my work, please be prepared to offer or negotiate a fee.
---
Usage requirements of poetry and original stories:
While I have tried to be very generous in the use of my materials within the rest of my site, poetry and stories are restricted to reviewed and written permission only. While nothing prohibits personal use of single copies, all original poetry, stories and reflections are copyrighted to Leslie Owen Wilson and cannot be replicated for distribution or publication without expressed written permission from me, my heirs or agents.
---
Giving = Continued Sharing
I created the Second Principle to share information about the educational ideas at the heart of all good teaching. I am dedicated to the ideal that most of materials on this site remain free to individuals, and free of advertising. If you have found value in the information offered here, please consider becoming a patron through a PayPal donation to help defray hosting and operating costs. Thanks for your consideration, and blessings on your own journey.